Your guarantees
Cancellation right within 14 days
2 years warranty
For expert advice please contact
bestellung@jahn-lederwaren.de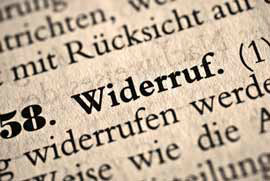 (Foto: Fotolia#37932119©kwarner-Fotolia.com)

Cancellation Terms and Conditions
Customer in sense of § 13 BGB has the right to return with following provisos:
Cancellation right
Customer has the right to return the supplied product within a period of 30 days from receipt of the product.
To invoke the Right of cancellation, the Consumer must inform Jahn-Lederwaren of his decision to dissolve the agreement by means of an unambiguous statement (such as in writing by mail, fax or e-mail). The Consumer can also use the online form, select 'I want to return a purchase' from the drop-down menu next to 'What is your request', and send the completed online form to Jahn-Lederwaren. The Consumer can also use the Model Form for Cancellation (see Appendix 1 to these General Terms and Conditions), but the Consumer is not required to do so.
Formular pdf to print
Cancellation should be sent to the following address:
Jahn-Lederwaren, Dirk Jahn Einzelunternehmen, Dischingerweg 19, 72070 Tübingen,
Tel. 07071-7963142, mail: $FreeVar[2]
If the Consumer invokes the Right of cancellation, he must return the product, including all accessories provided and - if possible in all fairness - in the original condition and packaging, to Jahn-Lederwaren within 14 days of date of invocation in accordance with reasonable and clear instructions provided by Jahn-Lederwaren.
Obligations in the event of cancellation
If the Consumer invokes the Right of cancellation Jahn-Lederwaren refunds the purchase amount, including any shipping costs for the products delivered, within 14 days after Jahn-Lederwaren has received the returned product from the Consumer.
During the Cancellation period, the Consumer must handle the product and packaging carefully. He may only unpack or use the product to the extent necessary to determine the nature, characteristics and functioning of the product, and to be able to determine whether he wishes to keep the product. The point of departure here is that the Consumer may only handle and inspect the product in the same manner as he would in a shop
The Consumer is only liable for the loss of value of the product if it results from handling the product in a manner other than stated above as acceptable.
The Right of cancellation is excluded for products that are developed by Jahn-Lederwaren in accordance with Consumer specifications.
Costs of returning:
If the Consumer invokes the Right of cancellation, the direct costs of returning the item are to be paid by the Consumer.