Your guarantees
Cancellation right within 14 days
2 years warranty
For expert advice please contact
bestellung@jahn-lederwaren.de
Promotional items made out of leather
 
For corporate customers
 

For customer care
Promotional items achieve the wanted, positive attention especially then, when they are needed or wished for by the person who receives the gift.
You can find high quality promotional items in our selection, from small gifts like key cases, mouse pads, ID cases, document holders, desk mats to high quality briefcases, laptop bags and travel bags made out of noble leather. Alone the visual and haptic pleasure will make your customers enjoy using these gifts.

If you have your company logo imprinted on the presents, you will optimize the promotional effect in a noble and discreet manner.
 
To present the company
Complete the corporate design of your company with a basic set of representative utensils related to desk and conference. In addition, we offer you noble leather items, if wished for imprinted with your logo, for example document holders for a conference, briefcases or also keyboard mats with a wrist rest, in addition to that matching desk mats and -last but not least- simple monochrome mouse pads for your desk.
 
Just right for your business
Upon request, we will be happy to give you an individual offer. If you have special wishes for a specific product, we will be happy to accommodate you– with an appropriate order size.
Your contact person: Dipl. Designer Dirk Jahn, Tel.: +497071 7963145, Email: jahn@jahn-lederwaren.de
 
Imprinting service
Why not combine the joy of giving with something practical and promote your own company at the same time?
Our leather items as your promotional items. We will imprint your logo and/or your company name on almost every leather item of our own brands. Be it a briefcase, folder, document holder, desk supplies, wallets or key cases - you decide where you want your embossing.
 
Blind embossing

Blind embossing is a cost-efficient and effective way of applying the message to our leather items.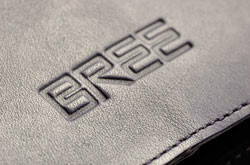 (Picture: ©Dirk Jahn)
And this is how the blind embossing works:
    Tell us article number, colour and quantity of the leather items.
    Send us a pattern of your logo or company name. A sharp print or a letter head is enough. If you have got a digital pattern (JPG, TIF, EPS), just send it to us as an email.
    Specify the wished for position of the imprint. (E.g.: The bottom right corner of the flap.)
    We will give you an offer free of charge.
    After the order is placed, you will receive a visualization of the leather item with your logo to correct or to approve of.
    The delivery will take place within the agreed delivery time. 
The minimum order for company imprints is 25 pieces.
The delivery time normally takes approx. 2 weeks, possibly up to 12 weeks, if a large number of items must be produced first.
Obviously, the right of cancellation is excluded for orders with individual imprinting.